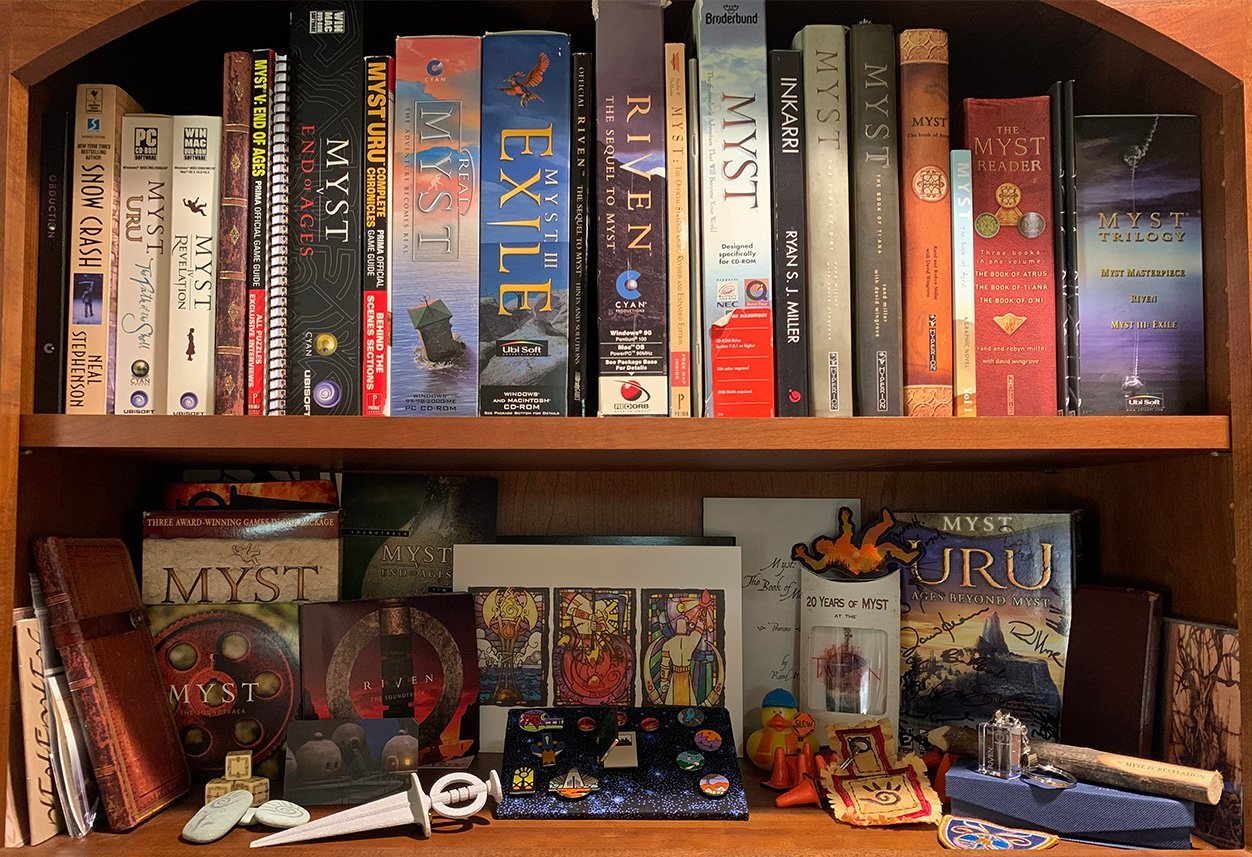 Jeff: Welcome to Fan Cave! Where Cyan introduces you to a fan… and their Cave! Today I'd like to introduce you to Jean.
Jean: My name's Jean, or Moiety Jean among Myst fans. I make costumes, sculpture and jewelry, both original designs and replicas from fantasy worlds of games, film, and tv.
Cyan's worlds have been a huge inspiration ever since I was in high school. I saw my mom playing Myst on our new computer and gradually became glued to her shoulder to explore the Ages with her. When I started my own game, and needed a hint for a puzzle, her clue was "well, what would happen if you did [sequence] in real life?" and I remember being floored that this game was inviting us to experience it as if we were really there. We got Riven for Christmas the year it came out, and from the first seamless motion video I was completely immersed. I'm not sure whether the visual world-building of these games helped shape my personal aesthetic or just happened to click precisely with it, but here I am 25 years later and still in love with weathered textures and leather-bound books.
The aesthetic permeates our home wherever I can make it happen, but I like to have most of our Myst collectibles and memorabilia in the den just to keep things extra geeky in there. I've slowly gathered them since the 90's, not so much different releases or game boxes, but more books and art and visual history, meetup swag, and many cherished, one-of-a-kind gifts from other fans and artists, such as the Rivenese linking window stone hanging on the wall, or the 3D printed moiety dagger. I've made lots of things too: stained glass, a bead curtain, ceramic vessels, even a larger-than-life collapsible photo booth that lets fans appear to be trapped in Achenar's book (this has been a lot of fun at Mysterium)!
The community has been a major part of my life, and I'm incredibly grateful for the friends (and husband!) I've met through it.
Other worlds I've spent a lot of time in include The Legend of Zelda, Harry Potter, Jim Henson's fantasy films, and The Adventure Zone, and I really love bringing bits of those worlds into the real world through costumes and crafts. I also love getting outside to appreciate nature and dabble in (very amateur) photography.
---
[foogallery id="759″]
---
Want to be featured in an upcoming Fan Cave? Send one picture that shows off your space to

[email protected]

. If we'd like to feature your space, we'll reach out to get additional details!