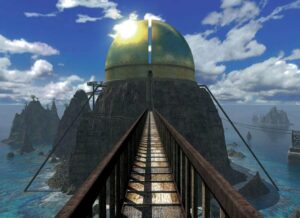 Pick up where Myst left off, and plunge into a deceptively beautiful world cursed by bewildering defects and a powerful overseer. Every shadow hides a secret, and appearances might not be what they seem. Atrus needs you once again – to untangle the truth about Riven and help him free his beloved wife Catherine. You must search, explore, and draw on your intellect and intuition to discover the truth about this troubled land and its inhabitants. Let Riven become your world, before the entire world is lost.
BUY IT NOW (for iOS) via the App Store
BUY IT NOW (for iPad OS) via the App Store
BUY IT NOW (for Android) via the Google Play Store
BUY IT NOW via Steam
BUY IT NOW via GOG
---
Just announced, we're working on a from-the-ground-up remake of Riven, designed for modern systems!
Teaser Trailer: https://youtu.be/7pEb6wSpCks
An Open Letter To The Fans Of Riven: https://cyan.com/2022/10/31/olttfor/
Riven FAQ: https://cyan.com/2022/10/31/main-faq/
More information about Riven on Wikipedia