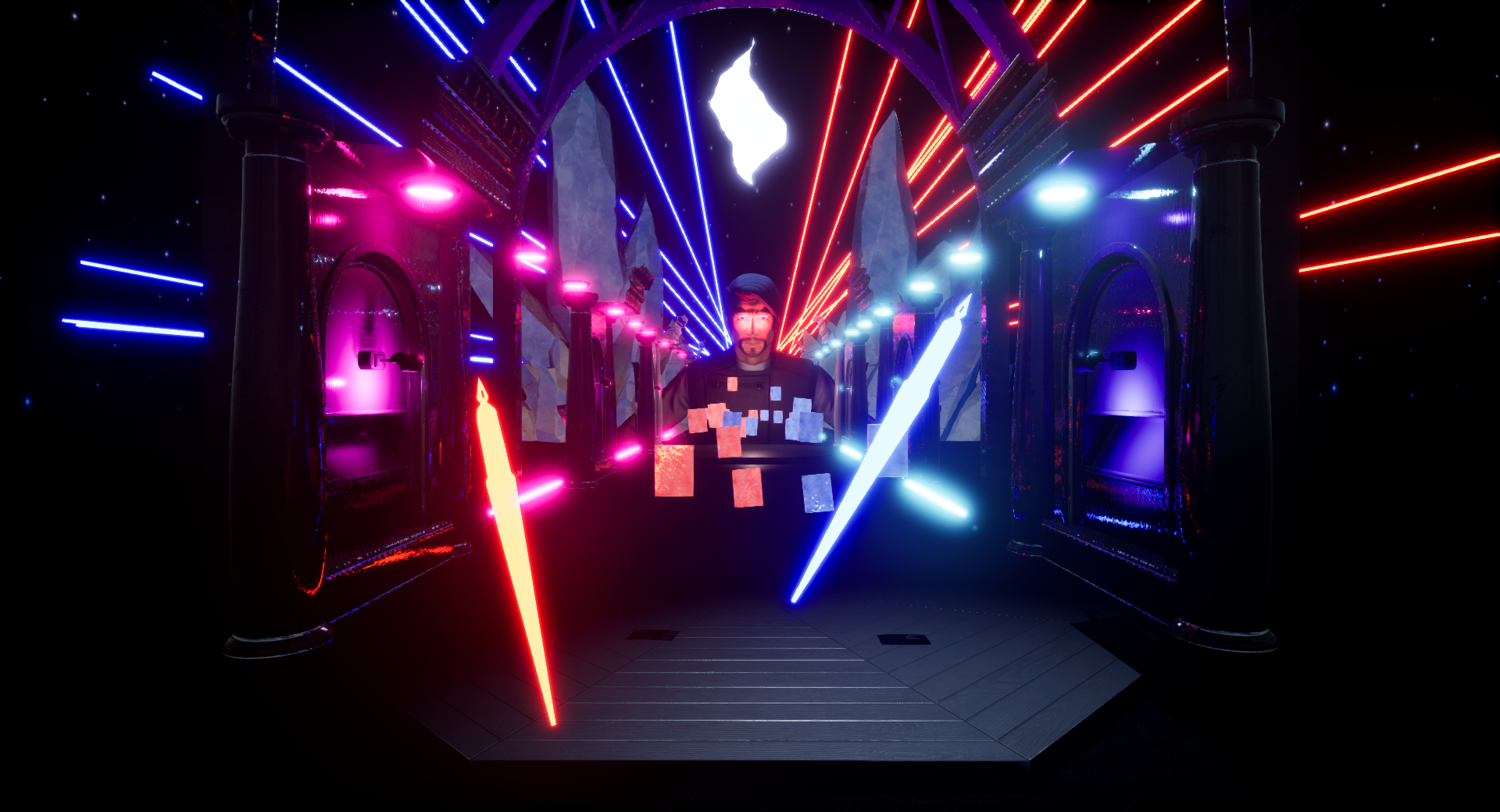 Introducing… Myst Sayber! (Cyan's 2021 April Fools Foolishness)
UPDATE: Yep. This was our April Fools silliness for 2021. We had a blast making it, and even though Myst Sayber is probably NOT going to be coming to a VR headset near you any time soon, we really appreciate your enthusiasm, and for helping make our day fun! If you do nothing else, tho, definitely check out Amie Waters, who made the music we used in the trailer. She's no April Fools joke!
---
ORIGINAL PRESS RELEASE:
SPOKANE, Washington, April 1st, 2021
FOR IMMEDIATE RELEASE:
Cyan, the indie studio that created beloved classics Myst and Riven, announces the release of a completely revolutionary, never-before seen Virtual Reality gaming experience called… Myst Sayber!
Myst Sayber is a virtual reality rhythm game developed and published exclusively by Cyan. The game takes place in a polygonal neon environment and features the player slicing red and blue pages being thrown at them representing musical beats with a pair of contrasting colored pen "saybers." We want to emphasize: this is a completely original idea. No other studio has ever created a red and blue colored beat slashing game before!
Naturally the game will feature the captivating remixed music from the game Myst which is sure to bring excitement (and a great workout!) to your totally unique virtual reality gaming experience! Match wits against big bosses Sirrus and Achenar as they throw red and blue pages at you in an attempt to thwart your quest to rescue Atrus from his imprisonment in D'ni…
Click the image above, or here to see our trailer video.
With an entirely fresh concept, and gameplay which is, again, unlike anything the world has ever seen before, Cyan is proud to announce that Myst Sayber will be launching as part of an exclusive partnership with Tik Tok's just-announced foray into the world of VR gaming: Vik Rok! Additionally, Myst Sayber will be available later in the year to iPhone users on Clubhouse, for the beloved Nintendo Virtual Boy platform, and, of course, for our many, many Sega Genesis fans!
About Cyan
Cyan is a legendary indie games studio allegedly headquartered in Mead, Washington, and is best known for games such as Spelunx and the Caves of Mr. Seudo, Cosmic Osmo: Hex Isle, and Bug Chucker. When not confined to our homes in a pandemic, we've been known to gather in various "undisclosed locations" on important dates such as 3.14 and 5.4 each year for delicious pie and barbecue!
For more information on Cyan, visit https://www.cyan.com
Special Thanks to Amie Waters for letting us use her amazing cover of the Myst theme! Please visit https://linktr.ee/amiewatersmusic for coordinates to her YouTube channel, Patreon, and other ways to follow and support her amazing work!