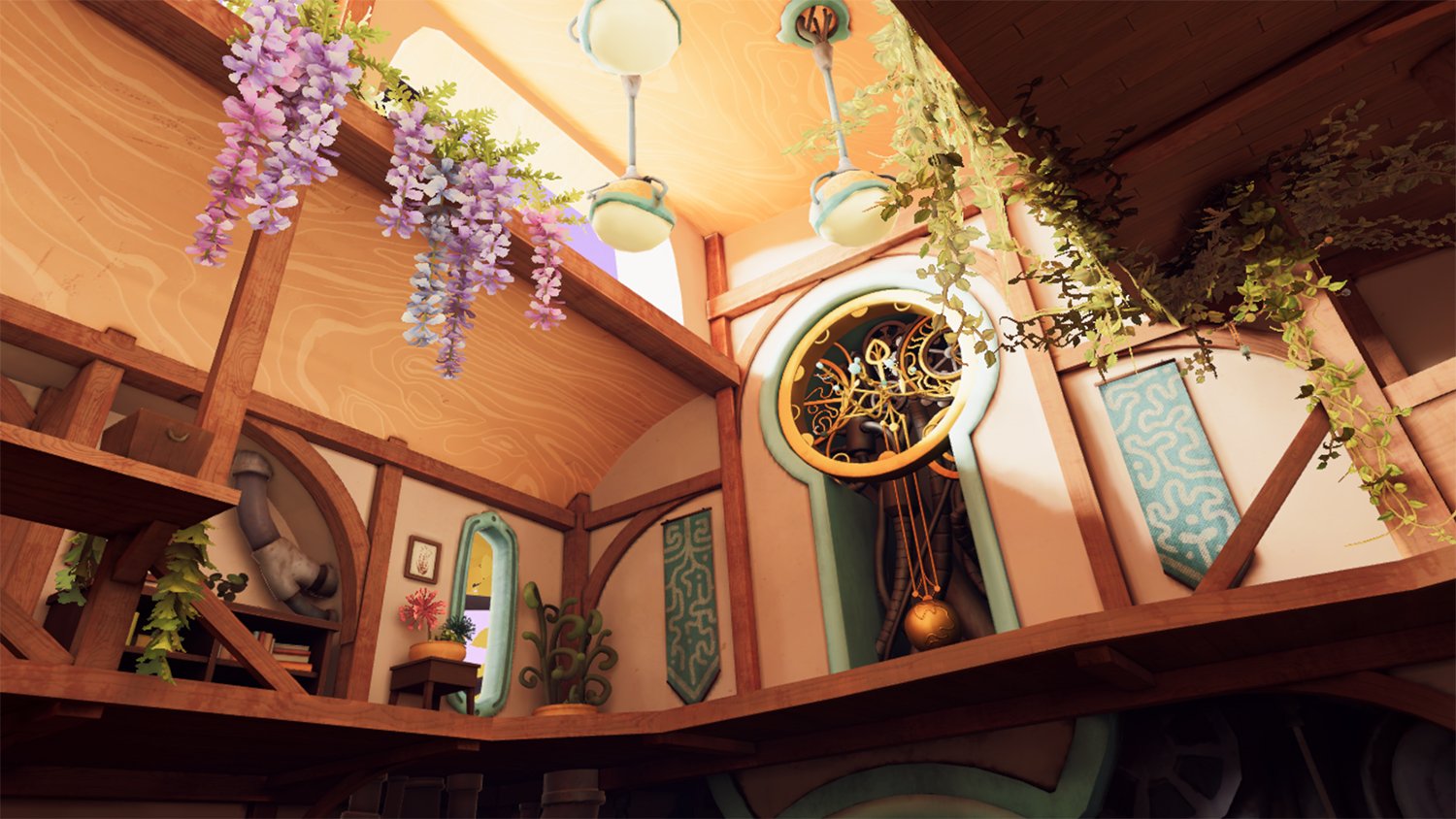 Closing Walls and Ticking Clocks
We've been holding our cards close to our chest on this one for a while, but finally… finally we can talk about it!
We're SO excited to announce a new partnership with indie-studio Pontoco through our Cyan Ventures publishing brand- with additional BizDev support from Robot Teddy (Among Us, SUPERHOT)- to release The Last Clockwinder, a cozy sci-fi VR puzzler coming to Meta Quest 2 and Steam in Summer 2022!
A nature-inspired puzzle game with an emphasis on automation, engineering, and design. Create an intricate clockwork contraption out of your own clones and restore life to an ancient tree.
Your mission is to repair the Clocktower, an ancient haven for the world's plants and seeds. Use a pair of magical gloves to turn every simple task into a looping clockwork automaton. These clones can do everything you can do, from planting to storing to passing things around.
Create a vast interconnected system in 3D space.. Grow plants, harvest resources, and work together to save the clocktower!
Automate everything! Perform simple tasks by hand, then use the gloves to loop each task on repeat.
Team up with yourself! Coordinate your clones to create marvels of precision teamwork or crazy magical contraptions.
A cozy sci-fi world! Tackle things at your own pace in a gorgeous setting inspired by watchmaking, sci-fi, and the natural world.
Rediscover your connection to the Clocktower: Piece together your complicated past as you work to save your childhood home.
"We wanted to make an automation game where you, the player, are the machines. We worked hard to make the action of cloning effortless.

"The game empowers you to create an interlocking system, mapping your real movements into the machine. We didn't set out to make a VR game, initially. But we stumbled on this mechanic, and the more we played with it, the more we realized we had to make this game."

John Austin, co-founder of Pontoco
About Pontoco
Based on both the East and West coasts of the U.S., Pontoco designs and builds thoughtful, approachable experiences that enrich the lives of people across the world. More info: https://pontoco.com/
About Cyan Ventures
Cyan is a legendary indie games studio headquartered in Spokane, Washington, best known for its award-winning games Myst and Riven. Cyan launched its publishing arm Cyan Ventures in 2018 with the mission to help foster and support indie developers in the creation of innovative gaming experiences. Cyan is currently working on its next adventure game, Firmament, scheduled to release Q4 2022. For more information, visit https://cyan.com and/or https://www.cyan.com/ventures/
About Robot Teddy
Robot Teddy is headquartered in the United Kingdom, with worldwide contractors and partners in six countries.
Robot Teddy manages business, strategy and releases for multiple games and studios, including Among Us, Gang Beasts, SUPERHOT, and more. Robot Teddy is co-developing Viewfinder, a new title from Robot Turtle, and funding prototypes and VR games. More info: https://www.robotteddy.org/